Flanges for aggressive chemical applications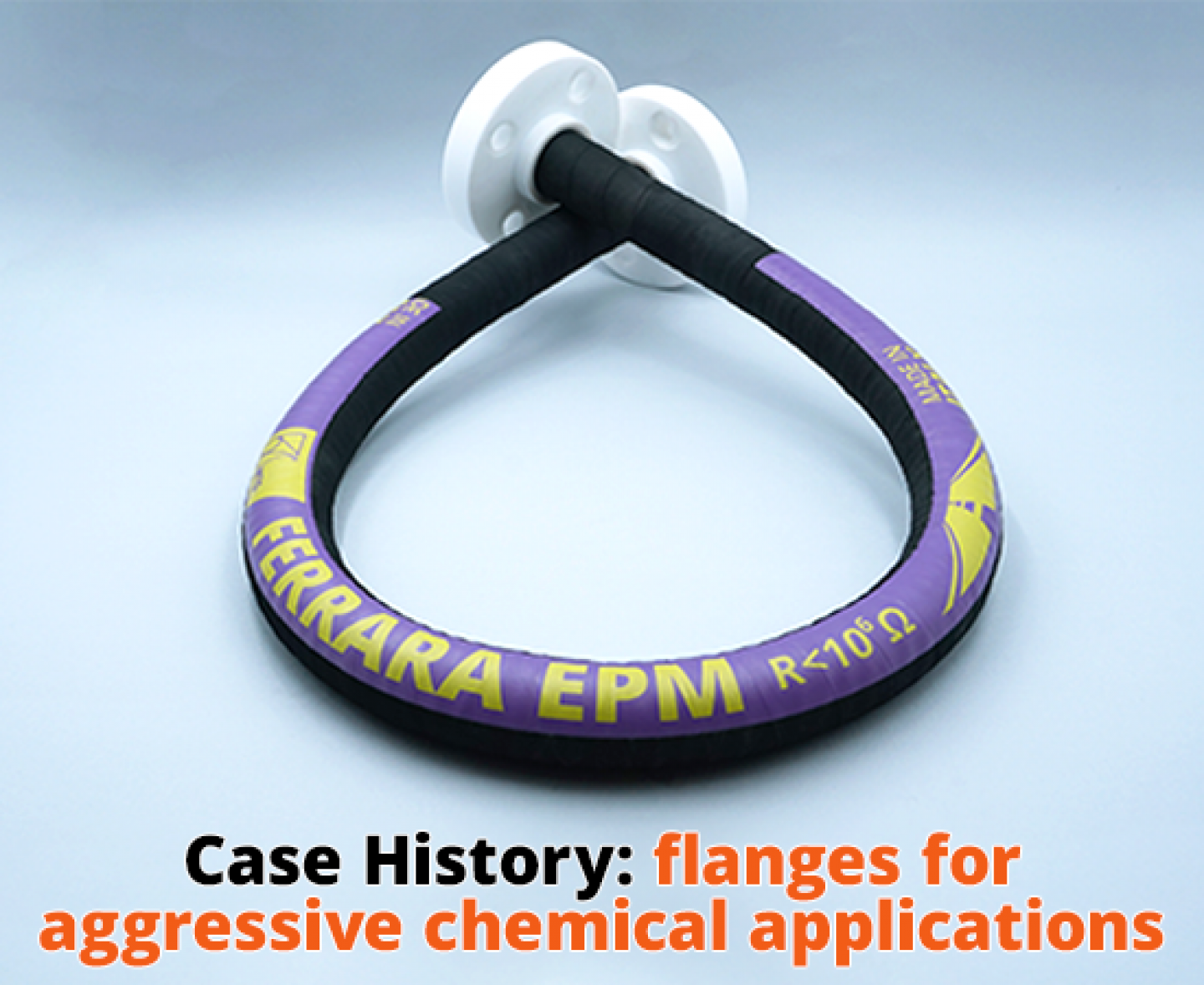 THE CHALLENGE
A customer operating in the chemical sector offered a new challenge.
The requests were:
No contact between medium and fittings: the hose would convey aggressive chemical media which could damage standard fittings made of steel
No external metal parts: the hose was to be installed in a the plant with an aggressive environment, and would have been in contact with chemical products which would have damaged metal couplings
Short length and flexibility: the hose had to be installed in tight spaces with minimal bending radius
Antistatic hose: the client needed dissipation of the electrostatic charges
THE SOLUTION
The requests prompted the MTG Technical Team to design a solution with rubber-beaded ends reinforced with an embedded ring. In fact, this type of connections guarantees a tight bending radius. The rubber-beaded ends also prevent the chemicals conveyed from coming into contact with anything but the rubber that makes the hose.
The MTG FERRARA hose is made of a rubber compound that withstands the aggressive chemical agents present both inside and outside of the hose. Since this rubber is antistatic (R<106 Ω), it guarantees that the assembly can discharge static electricity even without copper wires embedded in the structure of the hose.
Last but not least, the most difficult part: while most of the requirements were satisfied by the beaded ends, MTG's main challenge was to find an alternative to stainless and/or galvanized steel fittings, which would deteriorate due to the acid environment. MTG realized special PTFE flanges: this fluoropolymer is resistant to the aggressive chemical agents, and does not risk corrosion. The realization of these flanges required specific competences.
To sum up, the final assembly was designed to convey aggressive chemical media in an aggressive atmosphere. The result is a hose made with special PTFE flanges whose realization was possible thanks MTG's decades of know-how.