PHARMADUST AS with rubber beaded ends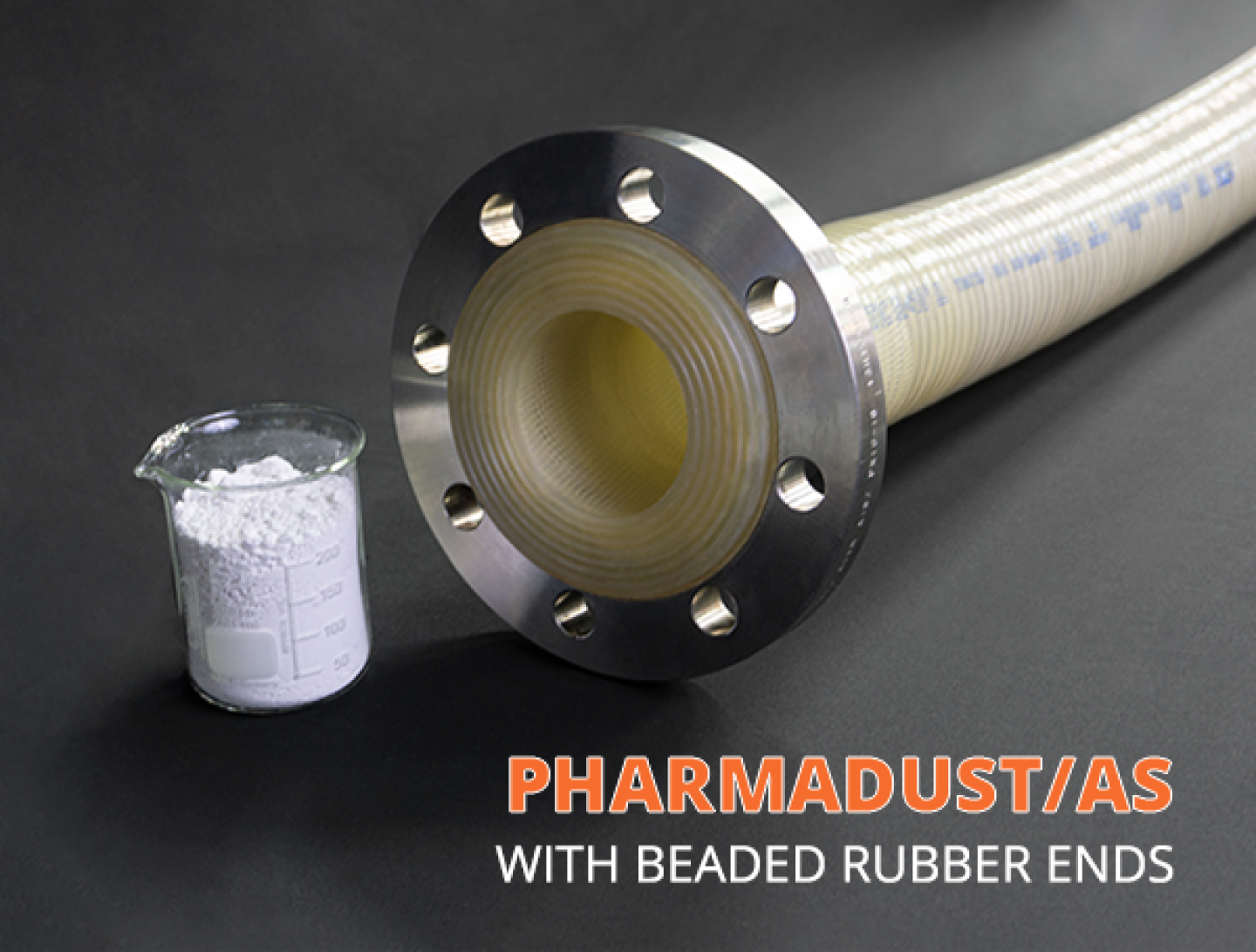 THE CHALLENGE
The MTG Technical and Sales Team has recently assisted a leading company in the production of pharmaceutical products. The company was looking for a hose designed specifically for the new plant they were about to build.
More precisely, they needed to convey a powder which in contact with humidity would emit acids that would corrode the AISI 316 steel parts of the fitting. The hose must also withstand sterilization and CIP cleaning cycles.
An essential need was a product complying with the most known pharmaceutical standards and, furthermore, the full traceability of the production process of the hose.
Another request was no inner diameter reduction.
Finally, the powders conveyed into the hose would produce electric charges. For safety reasons, it was necessary to have an antistatic hose suitable for potentially explosive atmospheres.
MTG has studied carefully the request, thanks to the know-how and experience acquired in more than 40 years of activity, and has presented and manufactured a product which complies with all the above mentioned requirements.
THE SOLUTION
Abrasion resitant: The hose is made with a technopolymer with high abrasion resistance: conveying abrasive products does not affect the lifetime of the hose.
Antistatic: This technopolymer can discharge static electricity even without embedded copper wires in the structure of the hose. The hose is approved and certified according to TRGS 727 – a specific norm for the pneumatic transport of pharmaceutical products in hazardous zones. Suitable for use in ATEX zones 0,1,2 and 20,21,22. FDA and USP Class VI standards compliant.
Rubber beaded ends: They ensure that no metal part is exposed to the conveyed product, and preserve the integrity of the fitting. Moreover, rubber beaded ends grant full flow of the media conveyed with no variation of the inner diameter of the hose.
Other benefits: The see-through construction of the hose allows easy visual inspection of the media conveyed. Diameter, hose length and fittings applied are fully customizable.